Tarak Hospital
Tarak Hospital is a Multi Super Specialty Hospital run by the company Tarak Hospital India private limited. It is a 100 Bedded project having all basic Deptt. Like General Medicine, General Surgery (laparoscopic), Gynae and Obst, Pediatrics, Neonatology, Orthopedics and Super Specialties like Neuro surgery, Advance trauma center, joints replacement, modern dialysis wing, cardiology, IVF, supported by facilities like ENT, Ophthalmology, Dermatology, Physiotherapy and Dental Deptt, Plastic Surgery, Urology, Neurology, Gastrontrology, Psychiatry and Diagnostic facilities like  X-ray, u/s, C.T scan and Pathology  lab serviced.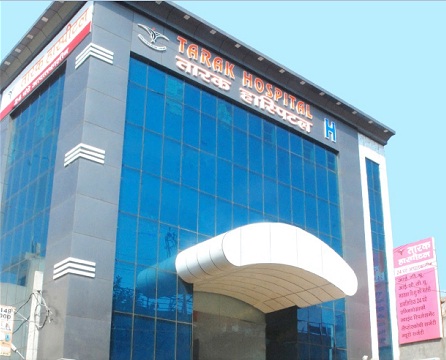 It has state of art 12 bedded ICU with latest monitoring gadgets along with central line O2 and suction such on each beds facilities and ventilator etc.
9 bedded NICU, 4 bedded PICU, 1 modular OT, & 1 Minor OT, modern infrastructure complying all statutory, safety guidelines and fulfilling quality standards as per NABH. To start with 45 beds are operation & 75 bed has been  with DHS. 
LIST OF FACILITIES
1.  FULLY AIR-CONDITIONED HOSPITAL
2.  24 HOURS EMERGENCY SERVICES
3.  OPD SERVICES (MORNING & EVENING)
4.  COMPUTERIZED PATHOLOGY & LIVE ECG 24 HOURS.
5.  DIGITAL X-RAY (24 HOURS)
6.  CT SCAN (24 HOURS)
7.  DIALYSIS CENTER (24 HOURS)
8.  IN HOUSE PHARMACY (24 HOURS)
9.  ULTRASOUND & ECHO, COLOR DOPPLER, TMT (24 HOURS)
10.  EEG , NCV  MAMMOGRAPHY ETC.
11.  ICCU, ICU, NICU, PICU
12.  MODULAR OT, MINOR OT, LABOUR ROOM
13.  PHYSIOTHERAPY
14.  TPA/INSURANCE OFFICE
15.  PARKING FACILITY
16.  CANTEEN/CAFETERIA
17.  LIFT
18.  FULLY EQUIPPED NURSING STAFF , DUTY DOCTORS
19.  LAPAROSCOPIC SURGERY
20.  NURSERY FOR NEW BORNS
21.  GENERAL SURGERIES
22.  24 HOURS DELIEVERY FACILITY
23.  TRAUMA FRACTURE & SPINE SURGERY
24.  KNEE/HIP/JOINT REPLACEMENT
25.  URO SURGERY
26.  NEURO SURGERY
27.  ENDOSCOPY, COLONOSCOPY, ERCP, MRCP ETC
28.  MAXILLOFACIAL DENTAL, ORTHODENTAL SURGERY
29.  WEIGH REDUCE SURGERY
30.  ARTHROSCOPY – DIAGNOSTIC & THERAPATIC
TARAK HOSPITAL
C-7, JAI BHARAT ENCLAVE, UTTAM NAGAR,
DWARKA MORE, OPP METRO PILLAR NO. 789
NEW DELHI-110059
CONT. NO- 011-64613613
EMERGENCY HELPLINE : 8285330330
TPA DESK: 8285141495
HOTLINE NO. 8285882288